Holden VE/VF Commodore UTE V8 304 Twin 3" Varex Valved Cat Back System
Holden VE/VF Commodore UTE V8 304 Twin 3" Varex Valved Cat Back System
Description
Matte Stainless Steel Cat-Back System With Twin 3″ Piping and Varex Rear Mufflers
Features
Enhance your Holden VE/VF Commodore with the Xforce Twin 3″ Cat Back System. Crafted from high-quality 304 brushed stainless steel, this system delivers optimal performance and durability. With twin hotdog center sections and Varex rear mufflers, you can customize the exhaust note to your preference. The slip joints offer adjustability for a perfect fit. Upgrade your driving experience with the Xforce Cat Back System and enjoy the power, sound, and style it brings to your Commodore.
Twin 3″ Cat-Back system
Twin Hot-Dog style center resonators
Brushed 304 stainless steel
Slip joint design
Dual oval rear Varex mufflers
Quad 3.5″ tips
| | |
| --- | --- |
| Part No: | ES-VF73UTE-VMKCBS |
| Vehicle Model: | COMMODORE V8, MALOO |
| Diameter [in]: | 3 |
| Material: | Stainless Steel |
| Instructional Manual: | Download PDF Download PDF |
You May Also Like

4″ Angle cut matte black tip read more…
Part No: ESHY33BLACKTIPS
Diameter [in]: 2.5"
Material: Stainless

4″ Angle Cut Burnt Blue Look read more…
Part No: ESHY33BLUETIPS
Diameter [in]: 2.5"
Material: Stainless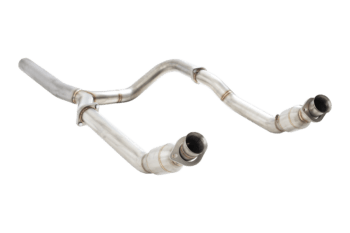 2.5″ Metallic high flow cat pipes read more…
Part No: ESDR19KITB
Diameter [in]: 3
Material: Stainless Steel
Customer Reviews
Holden VE/VF Commodore UTE V8 304 Twin 3" Varex Valved Cat Back System is not reviewed yet. Be the First One to review this product.