AUDI 8P 2.0T QUATTRO & GOLF R MK6 Downpipe and Hi Flow Cat Kit
AUDI 8P 2.0T QUATTRO & GOLF R MK6 Downpipe and Hi Flow Cat Kit
IN STOCK
Add To Cart

Description
3.5″ to 3" Dump pipe with 100 cell metallic cat in stainless steel, fits to OEM cat back exhaust
Features
This aftermarket downpipe replaces the factory exhaust pipe, unlocking the full potential of your Audi 8P S3, Audi 8P A3 2.0T & Golf MK6 R engine. The Xforce Downpipe is expertly crafted from high-quality stainless steel to ensure a perfect fit and maximum durability.
The increased exhaust flow from the Xforce Downpipe will allow for improved horsepower and torque, giving you a more exhilarating driving experience. The mandrel-bent design and high-flow catalytic converter provide maximum exhaust flow and minimize back pressure, allowing your engine to breathe freely and reach its full potential.
Upgrade your vehicle with the Xforce Downpipe and experience the ultimate in performance.
3.5″ dump pipe reduced to 3″
Flex bellows before hanger
100 cell high flow performance catalytic converter
Requires ECU tuning
Designed to fit to factory cat back systems
Fits the following;
Audi 8P S3
Audi 8P A3 2.0T
Golf MK6 R
| | |
| --- | --- |
| Part No: | ES-VW07-KITB |
| Vehicle Model: | A3, GOLF R, S3 |
| Diameter [in]: | 3 |
| Material: | Stainless Steel |
| Instructional Manual: | Download PDF |
You May Also Like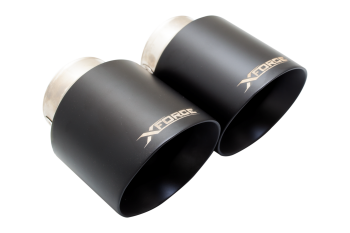 4″ Angle cut matte black tip read more…
Part No: ESHY33BLACKTIPS
Diameter [in]: 2.5"
Material: Stainless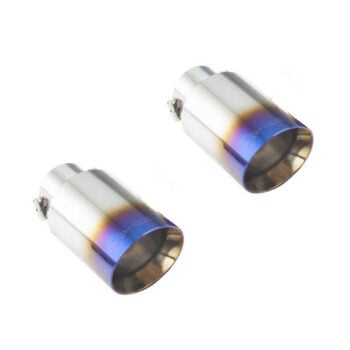 4″ Angle Cut Burnt Blue Look read more…
Part No: ESHY33BLUETIPS
Diameter [in]: 2.5"
Material: Stainless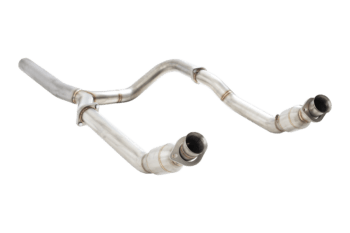 2.5″ Metallic high flow cat pipes read more…
Part No: ESDR19KITB
Diameter [in]: 3
Material: Stainless Steel
Customer Reviews
AUDI 8P 2.0T QUATTRO & GOLF R MK6 Downpipe and Hi Flow Cat Kit is not reviewed yet. Be the First One to review this product.