AUDI S3 8V VW GOLF R Downpipe Kit
AUDI S3 8V VW GOLF R Downpipe Kit
IN STOCK
Add To Cart

Description
Down pipe & cat kit
Features
For VW Golf R and Audi S3 owners that want to achieve peak power and torque output, or that just like their exhaust system fully optimised whilst retaining a catalyst, the XFORCE 3" downpipe delivers.
Featuring 304-grade stainless steel pipework, the larger bore downpipe also includes a high-flow 200-cell catalyst and stainless steel flexi section to aid installation and ensure reliability.
The XFORCE downpipe also includes a centre resonator pipe to help remove unwanted NVH (Noise, Vibration and Harshness) and ensures you get plenty of the sound that you want, without the cabin boom that you don't!
Includes all required adaptors to fit to either an OE exhaust system, or an XFORCE cat-back exhaust.
3.5″ – 3″ cast stainless steel top dump pipe
3″ connector pipe with resonator
304 brushed stainless steel
Mesh flex bellows before hanger
200cell high flow cat
Tuning pipe included
Centre resonator to be used with Xforce cat back system.
Fits the following vehicles;
VW Golf R MK7, MK7.5
Audi 8V S3
| | |
| --- | --- |
| Part No: | ES-VW09-KITB |
| Vehicle Model: | GOLF R, S3 |
| Material: | 304 Stainless Steel |
| Instructional Manual: | Download PDF |
You May Also Like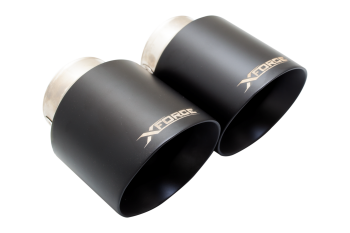 4″ Angle cut matte black tip read more…
Part No: ESHY33BLACKTIPS
Diameter [in]: 2.5"
Material: Stainless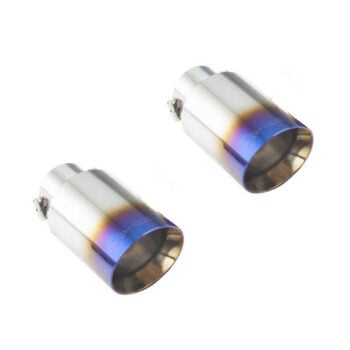 4″ Angle Cut Burnt Blue Look read more…
Part No: ESHY33BLUETIPS
Diameter [in]: 2.5"
Material: Stainless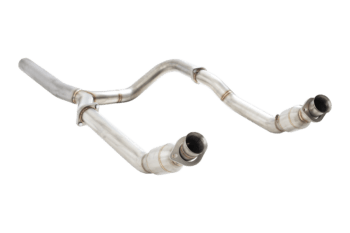 2.5″ Metallic high flow cat pipes read more…
Part No: ESDR19KITB
Diameter [in]: 3
Material: Stainless Steel
Customer Reviews
AUDI S3 8V VW GOLF R Downpipe Kit is not reviewed yet. Be the First One to review this product.