Subaru Levorg GT Varex Valved Cat Back
Subaru Levorg GT Varex Valved Cat Back
Description
Brushed 304 Stainless Steel 3″ Varex Cat Back Exhaust System
Features
Unleash the true soundtrack of your Subaru Levorg GT with the XFORCE' 3" stainless steel cat-back exhaust system.
Featuring a 3" centre section with hot-dog style resonator, the mandrel-bent system splits into twin 2.5" bore rear sections that allow the exhaust gasses to efficiently flow through twin VAREX oval rear mufflers, before exiting via the twin polished exhaust tailpipe trims.
Not only does this system look great, thanks to the twin-rear VAREX muffler setup, the integrated exhaust valve control puts you in the drivers' seat when it comes to the sound output and tone produced, all easily activated via one of the two supplied keyfobs.
Designed for owners looking for a high-flow performance exhaust solution with user adjustable sound control.
3″ Cat-back system
Brushed 304 stainless steel
Centre hotdog resonator
Cast stainless steel y piece with X logo
Varex rear mufflers
4″ tip outlets
| | |
| --- | --- |
| Part No: | ESSL14VKCS |
| Vehicle Model: | LEVORG GT |
| Diameter [in]: | 3 |
| Material: | 304 Stainless Steel |
| Instructional Manual: | Download PDF |
You May Also Like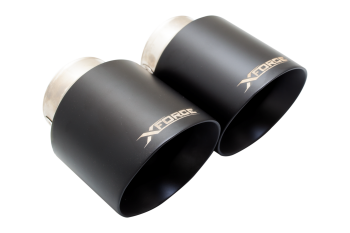 4″ Angle cut matte black tip read more…
Part No: ESHY33BLACKTIPS
Diameter [in]: 2.5"
Material: Stainless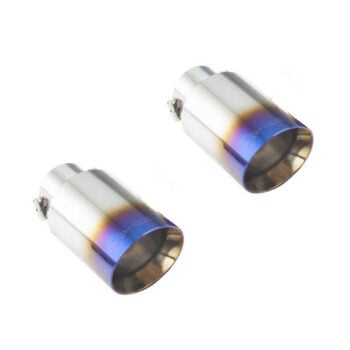 4″ Angle Cut Burnt Blue Look read more…
Part No: ESHY33BLUETIPS
Diameter [in]: 2.5"
Material: Stainless

Stainless Steel 3″ Cat Back Exhaust read more…
Part No: ESVW06CS
Diameter [in]: 3
Material: Stainless Steel
Customer Reviews
Subaru Levorg GT Varex Valved Cat Back is not reviewed yet. Be the First One to review this product.